Plone Conference 2010 - a retrospect
Plone Conference 2010 is over and back home a small retrospect from my point of view.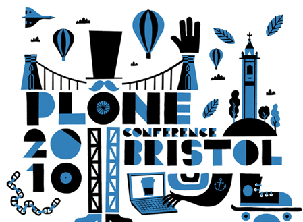 This years Plone conference is now over. It was held in Bristol, UK. BlueDynamics Alliance took part with four partners: Florian Friesdorf (Munich) Peter Holzer (Agitator, Zürich), Jens Klein (Klein & Partner KG, Innsbruck) and Johannes Raggam (Graz).
First a big thanks to Matt Hamilton and the whole Netsight team and its helpers for organizing this 300-participants, 4-parallel-tracks, perfect-wifi, with-big-party, with-sprint, with-fun event. Beside all conference related: Bristol is a great place to meet with the amazing Plone community.
The series of regular talks, lightning talks and open space was well selected. They covered everything from technical to social aspects, addressing beginners up to developers and disseminated new ideas as also created new ones. Most important anyway was again to meet the people, talk, learn and tell.
BlueDynamics Alliance have been lucky to give two talks and one lightning gtalk: 
Jens Klein talked about Plone semantics and IKS FISE - there will be a separate entry about it later, please be patient. Video, Slides.
Florian Friesdorf showed the latest LDAP works using our new, very flexible LDAP stack based on nodes. Video.

Lightning talk about bda.plone.finder, a Finder-like navigation for Plone, given by Jens Klein demonstrating the addon written by Robert Niederreiter. Video (starting at 34:40).

The open space sessions on friday were very good. The session on plone.app.imaging and how to make it even more flexible was very productive. At the moment Plone supports only image-scaling. Often needed feature is cropping or other image transformations. Major idea is to allow any transformation by using ZCA. Next is to allow chains of transformations. The outcome (will/is) documented is a PLIP. Andreas Zeidler already started to work on it at the sprint. Then Jens invited to an open space on semantics in plone. We agreed to start a special area on plone.org to collect semantic technologies and developments for Plone.
Weekend was sprint time. Saturday Jens sprinted on IKS-FISE, Hannes on plone.app.calendaring, Peter on eea.facetednavigation and Florian on bda.ldap and the user and group management. Sunday Peter and Jens sprinted on collective.dynatree - an basic integration and (optional) archetypes widget for the jquery plugin dynatree.
Now back at home we all need to sort all the input we got at the conference. Its always worth to travel around and meet in person.